Organic CBD Lifting Serum
shine bright
Our Bio CBD Lifting Serum shine bright is the natural lifting kick for your skin. Valuable, natural active ingredients such as CBD, hemp oil, hyaluron, algae and aloe vera extract in high concentration ensure an even and youthful complexion. The light serum also reduces wrinkles and prevents the formation of wrinkles. Read more
organic & vegan
free of animal testing & palm oil
with CBD & Hyaluron
natural lifting effect
skin tightening
reduces wrinkles
for a radiant complexion
free of allergenic fragrances
GMP quality from Austria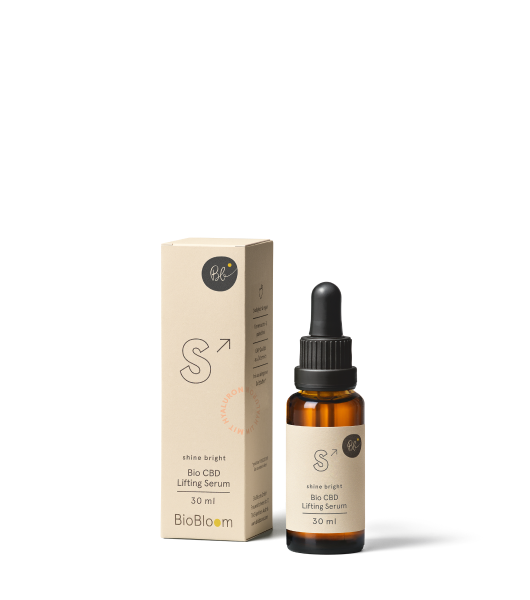 In stock.
Delivery in 2-3 working days.
organic & vegan
free of animal testing & palm oil
with CBD & Hyaluron
natural lifting effect
skin tightening
reduces wrinkles
for a radiant complexion
free of allergenic fragrances
GMP quality from Austria
Answers and questions to CBD natural cosmetics
Organic cosmetics and natural cosmetic articles are not protected within the EU. This means that everyone can name their cosmetics accordingly or design and use their own seals of approval. BioBloom deliberately relies on the official ABG seal for its skin care products. It is awarded by the official organic inspection body, which is also responsible for the certification of organic food. This guarantees the strictest organic guidelines for our cosmetic products.
You need more information?
Take advantage of our free consultation and receive personalized application information.
You can reach us from Mon – Thu 9 a.m. – 4 p.m. & Fri 9 a.m. – 12 p.m.